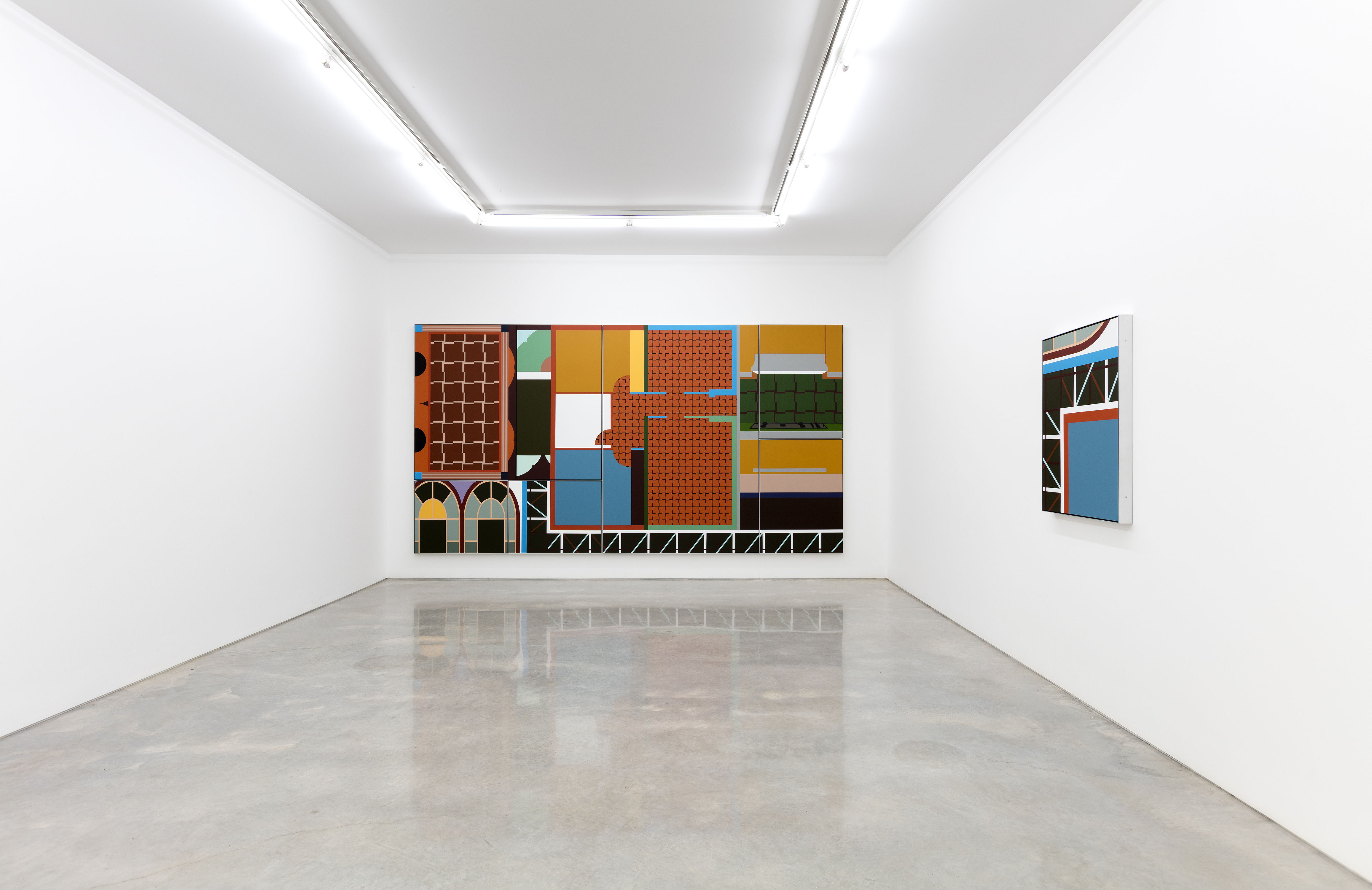 Esther Stewart
Esther Stewart (b.1988 Katherine, Australia) lives and works in Melbourne, Australia. Stewart creates paintings and installations that examine the endless possibilities offered by the visual language of architecture, design and geometry. Working at the nexus of art and design, Stewart explores ways to reimagine, collapse and expand spaces through painting and architecture, while examining historical influences and their respective social and political implications. Recently, Stewart has collaborated with architects and craftspeople to extend the spatial and material possibilities within her practice.
In 2023, Stewart has major works on display in Melbourne Now, at the National Gallery of Victoria, Melbourne, and also in The National 4; Australian Art Now at the Art Gallery of New South Wales, Sydney. Concluding 2023 will be a major installation of bespoke ceramic tiles made at Bendigo Pottery to be unveiled at the new Crowsnest Metro City train station, Sydney.
Esther Stewart completed a Bachelor with First Class Honours at the Victorian College of the Arts, Melbourne in 2010, where she has lectured in the School of Sculpture and Spatial Practice, and is currently completing a Masters of Architecture. Stewart has worked on major commissions for Bendigo Hospital, SlowBeam, ChenChow Little, and Shepparton Art Museum. In 2018, during her Gertrude Contemporary Studio residency, Stewart exhibited new work in a solo presentation at the Melbourne Art Fair, which was awarded Best Stand prize. Her work has been exhibited nationally and internationally at galleries and art fairs, including at the Heide Museum of Modern Art, Melbourne and the Australian Centre for Contemporary Art (ACCA), Melbourne. Stewart was the winner of the 2016 Sir John Sulman Prize at the Art Gallery of NSW, Sydney and was recently commissioned by the University of Melbourne to produce a major work for the Academia di Belle Arti di Firenzi. In 2015, Italian designer Valentino engaged Stewart to collaborate on the translation of her paintings into the textiles for the Autumn/Winter 2015-2016 menswear collection. Stewart's work is held in public and private collections internationally, including Artbank, Australia; Ballarat Art Gallery; and Lyons House Museum, Melbourne.